Already a week in Indonesia. We try more and more food and drinks, for example goat feet, soja milk, eggs ginger and honey smoothies, or pastries with veggies inside.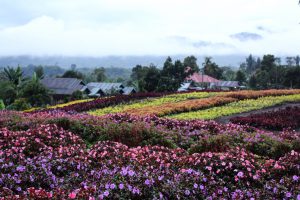 In Metro, the police officer called a transportation company manager and we hit the road in manga trucks to Palembang. The road… The road is particularly hard and the trucks follow each other continuously. Two times we crossed coal plants and another driver working as supplier in this industry told us it is the main industry in north Sumatra.
Java has more hydraulic and geothermal resources. We see for the first time the effects of such plants, with a fog that goes on kilometers all around.
When we arrived in Palembang we spent the night with the drivers in the praying room of a gas station. The next day we thank them and leave for Jambi, hitchhiking goes well. We receive advice and help from both women and men stopping by. They give first the direction of the bus station but then understand and try to help us stopping the car with big movements, or tell us where there is a place with shadow.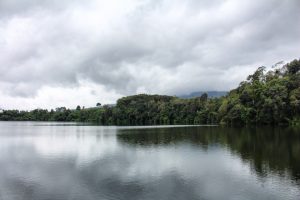 In Jambi we fail using couchsurfing and move in the city toward Padang road. We finally ask for a place to stay to the imam of a mosque, and students going to pray help us find a room in a bus station. We chat with them and some drivers, and they write behind our "Numpang gratis" paper some remarks to exchange with people on the road. They offer water and in the morning one of them comes with his sister to give us soja milk.
The next day we meet a police man and his father who go to their palm tree plantation. They invite us to lunch and help us stop cars to continue to Padang region. Wahyu stops for us, he works as a commercial executive for a seed company, Matahari, in all Jambi region. He invites us to his home in the middle of palm tree plantations, the ones providing palm oil. They welcome us really friendly, his wife prepares a nice cake, and we eat traditional spicy veggies and sauce. We also prepare together a green jelly made with leaves we just picked in a tree and ash of the banana tree leaves mixed with water. It is apparently good for the health, we'll have to look up on Internet what it is exactly, as many other things we do or eat here not knowing anything about it. We visit the head of the village and his parents, and drink coffee or tea each time, as the tradition goes. The next day he proposes us to visit the mountains 100km away. He works at the same time and takes pictures with his customers and us showing his products. Win-win relationship, our guy knows well his job. He has nice relationships and we stay in Madras in the manager of the potatoes' producers cooperative.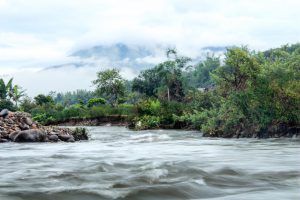 We discover beautiful villages where houses are surrounded by flowers, with volcanos on the background and rice fields all around. We see also for the first time rubber trees, coffee trees and cinnamon trees. Deforestation is real here, and we are told that some villages use violence against each other to maintain and extend their territory in spite of government interdiction. Some people like Wahyu are against these practices and the use of chemicals, but alternatives and investment in this direction are scarce. Not far from here, in Jambi, we could see a Nescafé plant. It might be a shortcut but it reminds us that we are responsible of these situations as Europeans with our consumption and the brands we choose. Let's try to help people from here supporting qualitative Indonesian products when we can.
Our host in Madras is a calm and smiling guy, he prepares the food for us, bring the plates back in the kitchen and wash them. This is the occasion for us to underline how Islam is not always linked with woman submission, only the quality of the society matters. Here men and women are somehow equal, in spite of a still strong patriarchal tradition. Women drive cars and scooters as often as guys, and it's often them talking to us on the street, speaking better English and helping us to find our way. Men cook and take care of the children, another stereotype is killed.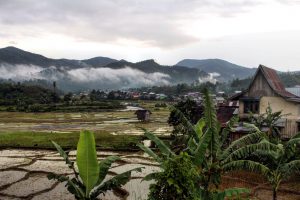 We have now a night in a hotel room, given by a friend of a policeman we met in the police station after a long interrogation. A woman in a car has thought that it is good to take us there and has given us some food. It is a good situation objectively speaking, but these police put some pressure on us to behave as normal tourists and we'll try to escape from them tomorrow.  We'll go now to Padang!
Let's question our other prejudices on the road.