We are already in Malaysia! No salty water to cross anymore.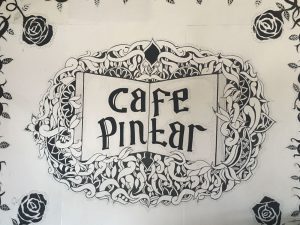 Our last post was written in Muara Bungo. The next day we leave for Padang thanks to a taxi paid by the police… We actually went out of the hotel with 4 police officers who take us to the road and stayed not far away in their car for so called safety. They actually don't want tourists to take risks as their hierarchy is making them responsible in case of an accident, which we can understand. However we were trying to hitchhike and they made us think we were doing it, but they fooled us asking a paid car to stop for us. It was quite obvious as the driver was not that interested in us and too young to possess a car, but as we didn't want to judge too fast we were sure only later when he started to stop to take other people. So we were a bit upset as this lift was commercial and the driver not talkative at all whatever we could try. Fortunately one of the other passengers could speak English and gave us an address in Payakumbuh, Cafe Pintar, useful later.
Then we were dropped in Padang, without any help from the driver that just wanted us out of the car. It was raining like hell and we went to a restaurant where the evening ended well as we met a student that brought us to his sharedflat. There it was a really nice moment playing Song, something like Bridge, with 5 other guys, and we left then with scooters to visit the place by night. We also tried the local dishes and had good time talking.
The day after we had our first accident: taken by a truck driver we stopped along the road for him to buy some water, and another truck hit the back. Its brakes were broken. The other truck's cabine was completely crushed and one of the guy was blocked. Fortunately nobody was wounded but it was impressive and reminded us of the risks on these roads.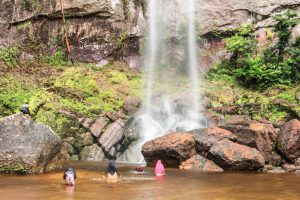 We met then another guy, Andre, a pharmacist, and together we crossed Bukittinggi and finally stopped in Payakumbuh where we slept in the same hotel room and chat a lot. The day after Andre made us discover the area by car, he had time as he was here for vacations. We exchanged ideas about occidental sexuality, and he was reassured that reality was far more "moral" than what youtube and series show here in Indonesia.
In the afternoon we stopped by waterfalls and visited an old man that was eager to talk about the area and the other "bouleh" (white people) he met. The area was beautiful, with cliffs, buffalo and green rice fields.
In the evening we stayed in Cafe Pintar, a place owned by an Indonesian who studied in England. The project has been recently launched: it is about proposing courses and chatting with international volunteers while drinking or eating snacks. With our business background we tried to give some advice, not knowing if it was accurate for the local activity, but we worry about the profitability of the business in this little village. We hope they succeed! It's a great idea.
The next days went really well too as we met a woman that knew people ready to host us both in Pekanbaru and Dumai, all speaking English. So we could talk a lot, in Pekanbaru we met Diko who spent 3 months in France and could exchange about cultural differences, Icha a nice girl that hosted us in her flat, and their friends studying medicine or engineering.
In Dumai we met Jefri, a 28 yo doctor and his mom and sisters, we had our first real monsoon night with water in the house and river on the streets ! We also went to a karaoke… Wow. First time for us, it's really crazy and our hosts are really good singers. We'll have to train.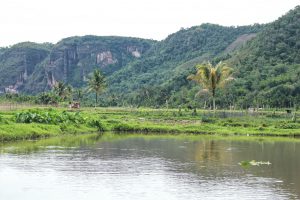 After crossing the channel we had to struggle to pay a tax, we didn't have any money and the closest atm was 1 km from the harbour and the passport checkpoint. Another way to deal with money: not having cash seems impossible for them even when changing from a country to another, so the infrastructure doesn't follow.
We finally used couchsurfing when arrived in Malaysia and stayed in Klang with Yeoh Hui Sio, a cake artist who made us try their pork and tea during the breakfast and discover her work.
We'll now see what are the next steps of the trip toward Thailand. We try to work on the documentary too, the format is almost defined and we gather content.
Have a nice week! Thanks for following us.