The northern Laos is covered with mountains, and small and poor villages spread along the roads. You can add to this landscape the cold weather, with temperatures dropping to 6 degrees in the morning between Vieng Thong and Phoukhoun.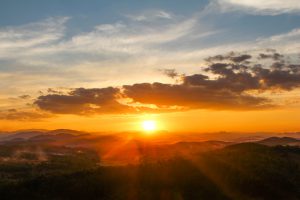 The forests bring some wealth to the people, with many skidding trucks around, but we can also spot gold panning and looming on the doorsteps.
Crafting seems quite developed. Vieng Thong's Pagoda is for instance built on impressive wooden pillars, and the walls are decorated with beautiful sculptures in solid wood. In the touristic Luang Prabang, shops sell silk clothes, probably coming from the workshops we've seen in the mountains.
However,  in spite of this industry, almost everybody here wears synthetic clothes and walk in flip flops in the cold winter.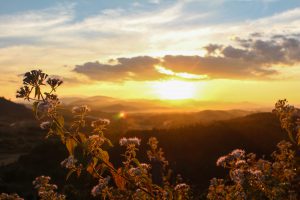 Unfortunately we couldn't meet that many people on the road, and couldn't discover more precisely these crafts, the language barrier and a kind of shyness of people not helping at all.
In Ban Thitnoune, a village high in altitude, we've been invited by some guys to drink a local alcohol but the situation degenerated quickly. Fortunately a farmer offered us a dinner in his home, with the light of his fire, and we slept in a teacher's home where we watched Thai boxing on TV.
We spent also a night in an unexpected strawberry farm, where travellers were invited to camp. Else we could only talk to young guys in some pagodas and to the drivers.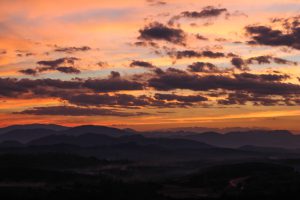 People actually drive really bad, we've seen many accidents of trucks on the side and also a probably dead woman on her scooter. The houses are built as close as one meter from the road, cars go there up to 80 km/h, and children are sent to collect reed along the curves. And you can add to this people parking in curves or in the middle of the road, these roads being the main ones in Laos. We hope this country is doing or will do some awareness campaigns…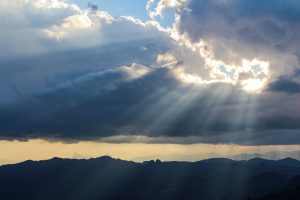 In Oudomxay area, young girls and boys wear traditional clothes to celebrate the end of the year. Here, already from the 30th of December the streets are alive and sound systems turned on. We slept in a vocational school where you could learn about farming, construction, catering and so on. But the administration was out to celebrate new year and those still in the place hesitated to let us camp inside.
Then we struggle for three days to reach the border, and we finish by taking a bus. Thanks to this situation we can at least try rat meat as we are hosted once in a village. They were still celebrating the new year the 1st  of January's evening. Finally at the border we learn that I cannot get visa on arrival with my Swiss passport. We probably missed something on the embassy website… There is no possible negotiation and we have to go back to Luang Prabang and then to the border again. That's a good lesson.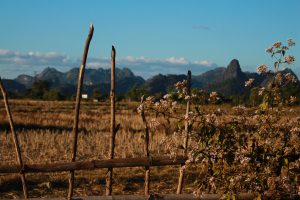 Therefore we are leaving Laos with the feeling we missed many things… And we had harder time than before to find welcoming people or just lifts. That's the game, and it's probably about luck. Our next step will be North Vietnam, where we'll try to get the Chinese visa.
Happy new year to everyone !