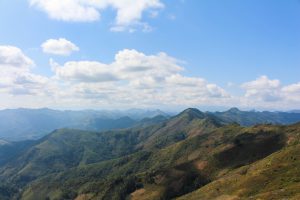 In Dien Bien Phu at around 10pm, we have some difficulties to find a place for our tent. Our first night in Vietnam will be a great one though: a student stops with his electric scooter and spontaneously invites us to his home. We probably wouldn't have done it in such a dark street with two tall guys in black…
The next day we struggle hitchhiking but finally reach Son La with a truck, where Thai and his family host us. We visit the city together, stopping by a French prison where many Vietnamese soldiers died during the Independence war.
His mother manages a vegetable shop downstairs and we enjoy it during the dinner. Here they eat mainly a kind of spinach with yellow flowers.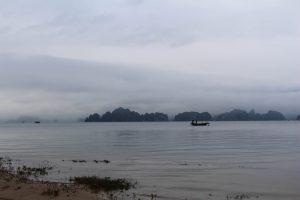 After Son La we have to wait 4h while hitchhiking but the first car takes us directly to Hanoi, through beautiful mountains surrounded by rice fields. In Hanoi we walk a bit to reach our couchsurfer Da in a building dedicated to startups and co-working.
Traffic is dense and it reminds us of Jakarta with the amount of scooters, but we find far more pedestrian walks. We will stay there four days first, relaxing and trying to get the Chinese visa. We taste some food, we buy some new clothes, and a pair of new shoes replacing the old ones worned out by the 1200 km we walked from Indonesia.
It rains hard, and we don't take any bus so we test the water resistance of our stuff. The result is quite positive! We stay two more days in Hanoi, this time with a lawyer who presents us his friends, CEOs of startups. We visit their office and they compare themselves to other people from the high society of Hanoi, who rely apparently too much on their position and relatives and don't do that much for the country. Their last mobile phone application is a success, and they work now on an educative one to help kindergartens' teachers to follow the children's behaviour.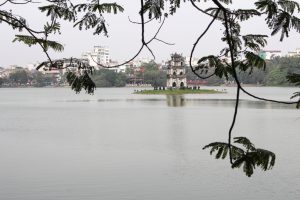 Another one sells PRM software, another is the CEO of a water distribution company, and so on… We had therefore a good view on the entrepreneurship here, plus all this activity on the streets, and we'll keep a good memory of the city. We just regret the mess on the streets, and the lack of any driver's skill there.
Finally it's good, we got our Chinese visa! The time we need to recover the passports, we escape to Haiphong where in spite of the help of many people we cannot reach our contact 40kms further. Therefore we have to sleep on a soccer field in the suburbs, after walking almost 38kms the whole day.
Something new, pagodas are closed by the night, the religion being apparently weaker here and less respected. We cannot rely on it anymore.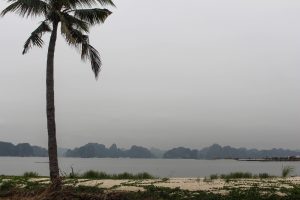 The next day we go to Ha Long, hitchhiking through so many buses and taxis… The coast is disfigured by the hotels, but the bay itself disappears in the fog and seems inaccessible to the tourists. It is only in appearance when we see how many ferrys slip between the islands.
We sleep on the beach, surrounded by oyster fields and crab cages. We chose well our camp place and the water stops at 4m away from us during the night.
Our way back to Hanoi is fast, we meet a couple speaking French who host us for the next two nights, the time for us to recover our passports. They tell us how they lived the Vietnamese war, how Hanoi changed, and it was nice to exchange in French this time.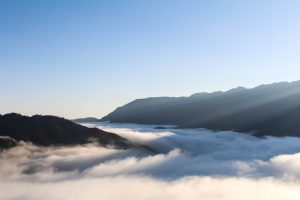 Then we headed to Lao Cai, a rich town, with so many jewellery shops. We sleep there on the hills and leave again to Sa Pa. There is fog all along the way but the sun finally goes through in the afternoon. We therefore climb a little bit in the muddy fields until we find a place at 1600m, where we have a nice view on the valley. In the morning we enjoy a nice sea of clouds and we go back to Lao Cai.
Our stay in Vietnam was too touristic as we didn't have enough time to take the little roads. However we will have a nice memory of this country and its welcoming people.
We hope we can still share articles with you in China tomorrow!
See you!