Kyrgyzstan is really open to tourism, and as many travellers we stay there to obtain our visas, Azeri, Uzbek and Iranian. We spend our first days there with Rakhat in the countryside of Bishkek. He speaks French really well and his talent for languages allow him to work for a travel agency besides his studies. We meet his father and some friends and we try traditional meals with him, like these breads stuffed with mutton, plov and fermented wheat beverage.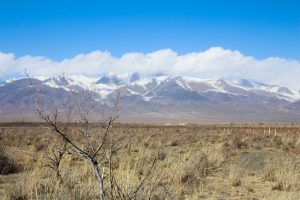 We learn some stories about Kyrgyzstan, Manas epic verses, kidnapping of brides which hopefully tends to disappear, or the role of Kyrgyz people during World War 2. There are also the movements of population in old and recent history, the nomad games and dances, the yurts in the spring, the animal fighting, which displays a powerful culture strenghtened by the developing tourism. Unfortunately for us, most of these cultural activities happen during spring and summer.
Bishkek city is visited quickly and after we launched some visa process we just escape in direction of Karakol and Issyk Kul lake. On the road we sleep in a small village close by Tokmok. We found an hospitable family after talking on the street. We play with the children and talk about families and price of things, a classical, with the translator as usual. After this nice moment we leave and cross the path to discover wonderful mountains and canyons surrounding the lake. The game of nuances between snow, soil and rock is amazing.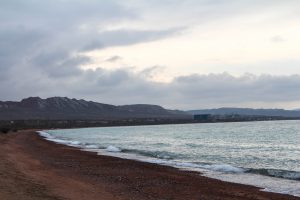 Karakol is not really welcoming, some alcoholic guys and junkies try to fight with us, but are fortunately easily pushed away. Besides this, tourism is omnipresent. We sleep in a worker's home with a young guy, but he tries to get some money in the morning. It is as sad as it's not representative of the kindness we found in the small villages and among the drivers. The next day we are welcomed in a mosque in a small village embedded between the lake and a cliff. We talk about Islam with a dozen guys, we share our meal with the imam and finally sleep in one of their houses.
On our way back to Bishkek we sleep again with the family close by Tokmok. We bring them some honey and they give us some homemade jam and bread for the road. In Bishkek again, we are welcomed by three Indian guys studying medicine, really nice and thoughtful people. We stay there many days, due to some process problems within Iranian administration. We eat everyday tasty Indian meals and learn a lot abour Rajasthan and Indian culture. So that we would love to visit them in the future!
We also meet Paul, a french cyclotourist who started in Thailand to reach Paris. He is following the same path and we exchange our impressions and tips. He is catholic and his trip is dedicated to religion, you can read his story here www.acrossintheworld.com.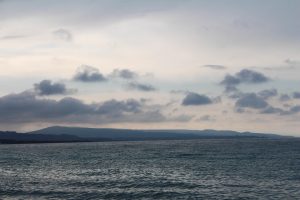 Another delay to get Iranian visa threaten our own trip through Uzbekistan, whose visa dates are fixed, but we can finally get the visa in one day thanks to the Consul agreement.
Soon on the road again! We feel quite weird after this 10-day resting, used to run every day, but we finally know our exact schedule. As follow: Uzbekistan, Kazakhstan, Caspian sea, Azerbaijan, Iran, Armenia, Georgia, and Turkey.
We wish Erdogan's political agenda won't disturb our way to Istanbul…
Thank you guys for following our adventures!