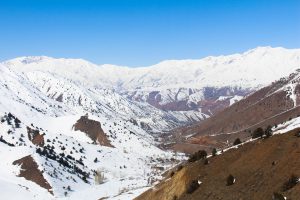 The pass in the south of Bishkek is hidden by an icy fog. An impressive quantity of snow is piled along the road. This winter some drivers lost their life or some body parts in this place, by minus 50 degrees. We are lucky the weather is better now, and the dangerous beauty of the mountains follows us on our way to Osh. We sleep on the road with one of our drivers, a fruit and vegetable wholesaler. We eat plov and homemade bread with his family, watched closely by curious children. On the hills there you can see so many shepherds accompanying their herd on their horses' back. Then we go to Osh and we cross the border easily, even if it's the first border where they check all our stuff. Welcome to the Uzbek over secured society!
In Uzbekistan, Ferghana valley is really crowded, and it's that much more people to wish us a nice stay along the road. People are smiling and helpful there, it doesn't change from Kyrgyzstan. In Andijan we sleep in an electronic factory after we met one of its managers on the street. We share some mutton skewers with him and then we leave for Tashkent, taken by a nice pastry chef. We stop by his home in the countryside, we eat more mutton skewers and finally leave him to continue to Samarkand. An Uzbek hitchhiker helps us find cars, then we find a Russian guy who brings us to our destination with his big 4×4, stopping once in a while to play a sniper game on his smartphone. He offers us some coffee and we talk Russian politics and French cinema, this dear Gérard Depardieu… When arrived in Samarkand  we sleep for the first time of this trip in a hotel, and we hope it will be the last time. Uzbek administration forces us to get registered sometimes.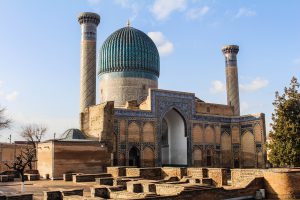 The next two days we are picked up by two Uzbek trucks to Nukus. We sleep on the truck's couch, something we can add to our "first time" list. Villages are now replaced by a huge desert, where our eye catches some eagles, camels and small mammals. We move out of of Nukus, sleeping in a shepherd shelter and hit the road again, still surrounded by the dry land. We meet some young guys working in a restaurant, dreaming about travels, and eager to welcome cyclists and hitchhikers. After we try to continue but we are blocked by a sand storm, which forces us to sleep in a building under construction.
The road is more and more muddy and chaotic, but our Uzbek marathon finally ends. At the border, many seasonal workers are queuing, they'll spend their next six months in Kazakhstan. Police forces us to cut the line, as usual, for our own safety. They won't ask any hotel registration ticket.
Back in Kazakhstan, in Beyneu, we meet professors on the street celebrating the muslim new year. They invite us to their gala, and the dance teacher does a demonstration while we talk with the english professors. Unfortunately they are too drunk to find us a place to sleep, bad plans being part of the trip. So we spend another night on a construction site.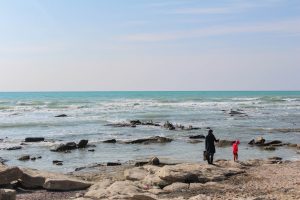 In Aktau we spend 3 nights with an host and his family, we discover Caspian sea and finally jump in the ferry to Baku. We stay awake 40 hours in a row due to the lack of organization, fortunately the owner of the harbour's cafe offers us some food, tea and company. The boat stays out of the harbour 20 hours before the little waves and the wind calm down and allow him to reach the deck.
We spend the trip across the sea with kurdish drivers mainly, but after some chat we spend our time sleeping and reading.
In Baku we find a host late in the night, he speaks French and many other languages. People are impressive with their language skills in Central Asia! In the morning we talk eating baklavas and drinking tea, but we have to escape quickly to reach Shamakhi. The first Azeri landscapes are great, green hills everywhere over the horizon, without any tree.
We get lost in these hills for the night, doing selfies with a shepherd and finally setting the tent. We hear wolves singing all night, probably one hundred meters away. Such a beautiful lullaby!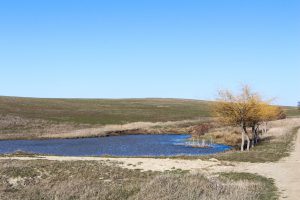 In the morning we go to Salyan after some detour to see higher mountains. Dozens of cafe are built along the road, with shelters where families enjoy some barbecues.
In Salyan suburbs we meet an old man who invites us kindly in his home. We taste his own cheese and cakes chatting with his whole family, great grandmother and children… They are really warm and welcoming, we visit their big garden, we tease the geese and the cat, this one spending the next morning watching the fresh yogurt fermenting on the terrace.
South of Lankaran, in Xanbulan, we sleep in a beautiful forest, but under the rain. We chat with young guys, the bread seller, and so many people hailing us on the street to invite us for a cup of tea. Azeri people are really interested in us, proactive and smiling. We are quite sad to go that fast through their country.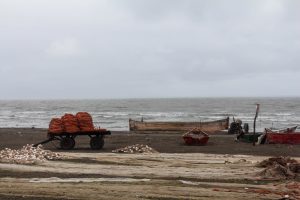 The first Iranian police we meet at the border are awesome, they gather around us to shake our hands and they wish us a nice stay in their country with broad smiles. An English speaking soldier takes care of us all the way till our visa is checked. If we should note the borders we cross, this one wins.
In Iran we are ! A country often despised on our television, assimilated to Arabic world, to wars and radical islam. We are eager to discover how much is wrong behind these political masquerades…