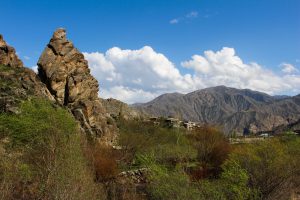 We couldn't find Internet for a while, sorry for the absence of news. The Iranians don't have unlimited wifi, they have to pay for each gigabyte, which they rarely do.
After we cross the border we discover a colorful city. The urbanisation is well planned and blooming trees are all the way along the roads. We shake our first Iranian hands and we chat with some guys.
Our first driver and his friend take us to their home for the night. One of them is a retired photographer, Habib Zahd, the other one a plumber, Shide. They don't speak English at all but we go along well. They live in empty rooms with some old carpets and a hob directly on the ground with which Shide does great soup and meatballs for us. In Habib's room pictures cover the walls, some of it has been prized, and we can see a photo of him younger with a black moustache on an old motorbike. We spend good time together. They take us to a point of view on the city and the Caspian sea, we also visit a park along the sea and we do a quick detour in the mountains before leaving each other.
The next day we arrive in Rasht, where we meet Navi in a small restaurant. It's a former boxer somehow unemployed. We spend the night in his home, meeting his dog named Michel.
We move to Isfahan, driving through beautiful dry landscapes. A couple offers us food, tea and fruits while driving: better than an airlines company. We discover what hospitality means for Iranian people.
In Isfahan we wander on Naqsh-e Jahan square, taking pictures, and some students join us. We spend the two next nights in one of their home, debating a lot and visiting the city. We also try good meals, for instance a great chicken in a caramelised granada and walnuts sauce.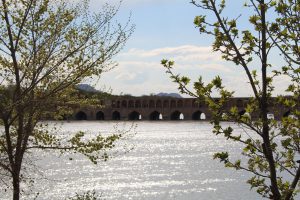 Then, Shiraz and more deserts. We sleep in the tent not far from the city. During the day we visit the bazaar, the citadel and the narrow streets of the center. While eating in a park we meet a man working in the Iranian stock exchange. He explains us their inflation issues and the lack of investment in the country, and gives us some fried food he was carrying home. The food is good, Iranian situation less.
The challenge in Iran is to escape from welcoming people. We are invited ten times a day for a tea and a simple no is not enough. We often run away impolitely to be able to go forward. Between northern China and Iran, a world. We eat bread and sausage in a park on an intersection: a scooter brings us a tupperware with delicious hot meat and potatoes. The driver just says "food". Five minutes later the fruit and veggie seller of the corner brings us a plate of yummy green melon he slices in front of us. This situation well describe Iran. Everyday we have to refuse them paying for us taxi, bus and food… We hope other European travellers or massive tourism won't abuse of this cultural trait.
We move to Bushehr, with a step not far from Qaemiyeh. A young couple offers us ice-cream on the road. After the snow in Qazvin one week earlier the temperatures are now close to 30 degrees. We camp around a fire, not far from the tents of nomad shepherds. The environment is great, green and surrounded by canyons.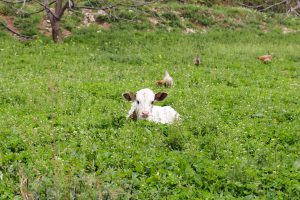 We reach Bushehr the next day, but after we watch the Persian sea (Arabic) and we drink some tea and we go back to sleep in an oasis among the date palms.
From then on we head for the north, leaving progressively date palms and blooming orange trees to almond and apple trees. A driver invites us to taste a fried fish filled with granada. Delicious. When in Nurabad Mamasani we spend the night in the house of a rich farmer and we talk for hours with his son about Iranian society. We also meet their Afghan workers, some of them expelled from Germany or Greece.
The driver who brings us to Behbahan invites us to sleep in his home. He shows us his clothes shop for women and we spend the evening with his friends doing a barbecue in a beautiful orchard. The process is well known. The picnic culture is impressive in Iran. We see everyday families eating in the parks, on some fields, or even on the grass between two roads.
We sleep the next night in the tent, enjoying the good weather, in a small canyon 20km north of Andimeshk. We are alone with pleasure after spending the whole day talking with people, negotiating with taxis or those willing to kidnap us for one week.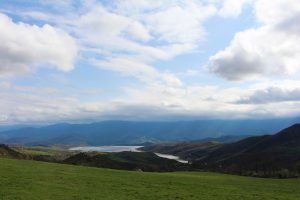 We are ungrateful in a country where being in a hurry is nonsense. However if we don't fix a rhythm we would need one year for the same trip.
We are welcomed by a family and hosted by a student in political science in a village south of Hamedan. Unfortunately our host doesn't speak that much English but he is taking care of us, we visit the hills surrounding the village with his 4 year-old nephew, running faster than us. The altitude on this side of Iran is mostly over 2000 meters. We feel it.
In Tikab it will be the tent again, in a kind of orchard. On the road we overtake many trucks full of sheeps and goats, and on the other way we see combines going south to harvest the winter wheat.
Our last days in Iran are on the hills of Sufian, close to Tabriz. We eat our sandwiches observing a shepherd on his donkey. His two dogs are hunting a kind of grey fox a few meters away from us… The fox wins the race.
After we hesitated spending another night in the tent we talk to two young guys in an farm building. They host us in a place which turns out to be an ostrich farm. Their neck is impressive, they look down on us.  It's rainy all night. The next days we shoot some cans with a rifle and we wait for the sunshine, watching alternatively the Iranian television and the turtle of our hosts moving in the yard.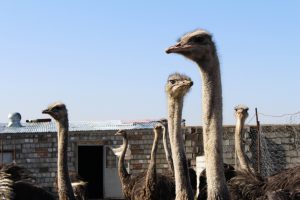 Another night and the sunshine comes back. We feed the ostriches, they bite our fingers affectionately and we finally have to leave our two nice hosts, Reza and Muhammad.
We quickly reach Armenia where the last mountains are waiting for us!
Iran is worth it. Don't trust our medias! People are almost all moderate muslim and we met many atheists on the way. Women are driving and they hide more their neck than their hair with their hijab…  And so on. We hope they find peace between international, governmental and religious harassment.