Our first days in Cambodia were quite exhausting, but we finally discovered beautiful natural places and we met welcoming people. The economic situation is bad for 5 years now, and you can see it directly on the road while hitchhiking: on the main highway at 9am you can wait 5′ between each car.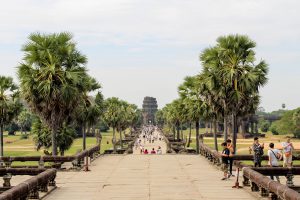 In Siem Reap, the city close to Angkor Wat, luxurious hotels are being built all along the road, which is contrasting a lot with the villages we crossed before. Tuktuk drivers are running the place, all having an hostel somewhere.
We walked to Angkor Wat and did the tour of almost all the temples in one day, 37km, to give you an idea of the size of the place. Lakes there were digged by hand, and the biggest is 20km to 5km… All that built between the 11th and 16th century. So even if we usually escape from touristic areas, this one was too important in South East Asia and Cambodia's history to miss it.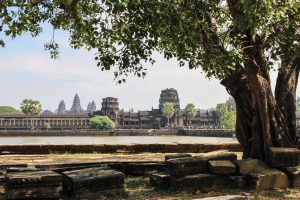 Then we moved to Battambang where we spent two nights. The first in a school which finances itself with farming, sewing clothes and hosting tourists. One of the young women there had two jobs 9h a day everyday to pay the university of her siblings, while another one explained us how difficult it was to get married with her boyfriend, because of religious and financial issues.
We spent the second day with Vuthy Prum, an English teacher and Tuktuk driver on the weekends. His father in law was speaking French it was a great moment chatting, and playing with his kid who loved all the curious things inside our bags.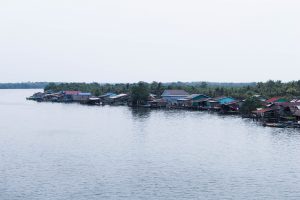 Then we moved to a floating village, where the stereotype of muddy road and small shelters was even more true than the previous days. We have to say though that they live really well in it, with a lot of comfort. Hamac and outdoor kitchen suit perfectly the weather.
The next day, after a 100km dusty road, we stopped in the middle of Cardamom area, famous for its pepper. And there a woman waved us just before we entered the jungle walking, and offered us to stay in her home. From her small wooden room she took out shampoo, pillows, carpets, and even whisky to fight the cold 18C night… They had no electricity, but phones for sure and even a tablet where she showed us her daughters living in Paris and USA.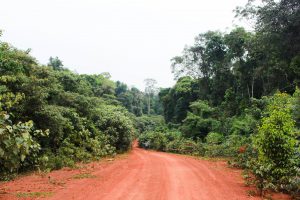 In the morning we waited one hour and a half for three cars, the last one driving us through the jungle to Oh Saom. The area is beautiful but quite hostile, with lakes that surely hide crocodiles and tigers eating everything from the chicken to the buffalo. Not sure that the 5 dogs per family are enough to protect the livestock.
We also noticed huge burned trees in the middle of the plantation. People here use fire to get rid of the jungle and grow pepper and banana. We cannot condemn it as easily as we are used to do in Europe: people here terribly need resources and investment. We've seen Chinese, Japanese and European infrastructures but we wonder what is granted in exchange. We crossed for instance the path of a whole Chinese military division, probably training in the area.
Well, the red dust covered our bodies and bags, but behind pick-ups or on the top of a banana load we finally reached Krong Koh Kong where we slept in a Pagoda, again.
Now we are un Sihanoukville, where nothing special happened, and we hope we can reach Chbar Mon by the afternoon!
We wish you a nice week!