The mourning of Thai people for their king is still going on, and the majority of the people wears black. Black and white tissues, and many portraits of the king are displayed everywhere on the streets, and you can find pictures of the royal couple in every house. It seems that Thailand found its Ataturk. We learned he died at 89 years old and became really popular thanks to his help to poor people. With engineers he was visiting regions with less fertility and gave advice to the farmers in order to increase the productivity or choose the most adapted plants to grow.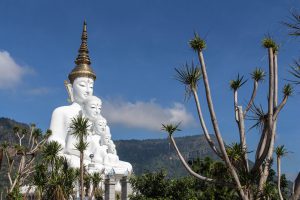 To come back to our trip city per city, after Songkhla we spent the night in Nakhon Si Thammarat in a shop selling tires, and the next morning we ate a really good Hong-Kong breakfast made of many bamboo plates cooked altogether with steam. Then we left for Tha Sae and discovered a temple built close to an impressive cave populated with Bouddhas statues.
Then we tried to reach the coast in Hua Hin but the city was so artificial and full of tourists that we preferred to sleep a few kilometers away in Pran Buri, where the farm worker/ice cream seller Dui Matt welcomed us with his two dogs and his good mood.
On the road to Bangkok we met a procurement manager, an helicopter pilot and a Honda commercial, and then we slept in Siwat's small flat. He was really welcoming and made us visit the China town while there was a free food event to celebrate the king. In the morning we went to a temple to see a 5 tons golden Bouddha and our host guided us to the station where we took a 30 cents train to Ayutthaya.
There we met too many Europeans and crossed many ressorts and we escaped again to Ban Goom. A police officer generously hosted us in exchange of some cleaning in one of the empty wooden houses belonging to her family.
The day after we drank coffee in a rice cooperative and her sister and a friend showed us an old temple and its relics, tea services and old scrolls.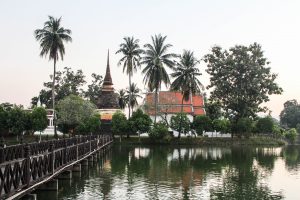 After we travelled toward the western mountains  on a really nice road, and made some contacts in a market to finally find a place to sleep on the sport fields of Lan Sak city.
In Sukhothai, next day, we struggle to find a place to sleep and we finish sleeping in the tent with one hundred mosquitos we have to kill one by one, in spite of being careful when we entered the tent.
Finally, after a few days talking only to each other we meet an old man, a carpenter, who hosts us in the future resort of his wife, in Ban Nong Bon. The environment is really beautiful, and we swim in the river running down the houses. We try some meals, for instance a really good papaya salad. He speaks a correct English he learned by himself 50 years ago and never really practiced until he met us. Impressive.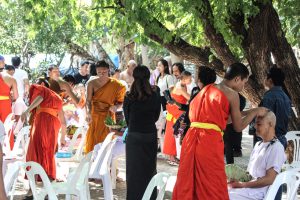 Now we are with a nice host in Khon Kaen area, his mother is spoiling us and we try food again. We also had the opportunity to see 50 employees of a company shaving their head to become monks for a few weeks, for the king of course. About monks, it is apparently a step in any education here, as a military service and for instance our host did 5 months of meditation after his master degree.
This week was looking calmer than usually though,  with few people with whom we could communicate, but these last two days we were really lucky and we have good hope for the crossing to Cambodia the next days…
We wish you as much good time on your side, enjoy!