Armenia has higher mountains than expected. The south has few villages and struggle with an old territorial conflict with Azerbaijan, for the control of Nagorno Karabakh province. We have therefore some difficulties to hitchhike as most of the cars stay in the valley and do not cross the pass.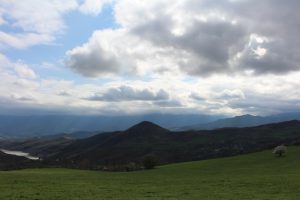 We first sleep in Meghri, in the warehouses of the city, after we talk to the guard and we eat in his small room. The next night we stay in Goris in a French armenian hospital, with authorization of the director. However we wake up two times with the sound of ambulances, such an atmosphere!
Armenian cars are luxurious in comparison with the population's apparent wealth. Is it the money of the diaspora? Our hosts in Yerevan tell us it's more about 10 years loans, mafia and social status. Something we hear since Indonesia.
We observe another kind of machine. Two tanks are moving to south in Kapan area. During our two nights there we hear some loud noises during the night, without knowing with certainty if it's the sound of guns. What is sure is that people don't mind and everybody peacefully goes around the next morning. Many civils wear military clothes, a fashion of the region, as well in Armenia as in Georgia.
Mountains are dressed with snow, and are sometimes hiding some canyons with beautiful geological shapes, especially around Goris.
We hesitate to sleep in some caves but rain is threatening and the weather is cold so it's not the perfect place to stay dry and warm.
In Yerevan area we dive into a valley in the direction of Turkey and Ararat mountain. This impressive and historical volcano overlooks the plain and is seen from any building of the Armenian capital. Almost all the population is gathered there, blocked between two huge volcanic foothills.
We walk a bit in this nice and lively city and eat a kind of lahmacun and fried breads. Our host Arthur is a kind guy, web programmer, and we spend good time with him and his friends. We have some drinks with them, and we exchange interesting talks as they come from different backgrounds, art, economy or army.
They don't care that much about political and territorial conflicts with Turkey and Azerbaijan and they just want to escape from mafia, social and economic issues by moving abroad.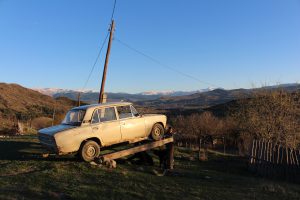 Unfortunately it is a short stay in Caucasia. We fixed our deadline the 30/04 and the road is still long to reach Istanbul. We therefore move to Georgia and sleep in our tent in Akhalkalaki, and the next day with hosts in a farm close to Adigeni. Everybody is in the field to plant potatoes, and we could also observe some neighbours repairing an old Lada car. Same model since the beginning of USSR, only maybe minor changes on the wing mirrors. Local people don't stop doing jokes about this brand, as much as we do in western Europe.
We cross the border to Turkey in Posof (where they check our bags), and we sleep in a former military camp in the suburbs of Göle after we passed Ardahan.
On the street teenagers warn us about the danger in the area, and we'll hear two or three gun shots during the evening. Four military vehicles enter the city the next morning. However everything looks normal when we go inside the city to buy some food. Weird atmosphere…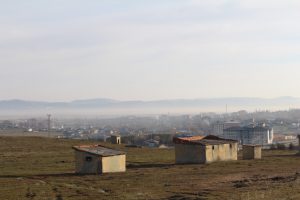 It is cold and rain is threatening again, the land there is over 2000 meters high. Hitchhiking is still not easy, traffic is really low. Turkey has however good reputation and is supposed to be easy to cross. Maybe recent events like the referendum, and military and economic tensions changed people's behaviour. Police presence is important here and we cross 4 police check points between Posof and Erzurum.
We sleep two more nights in the tent, in Tortum and Torul. The wind blows away some roofs in Trabzon, not so far away, and we feel it in the morning. We're not lucky these days.
Fortunately we have some fun asking people what they voted in the referendum. There are many Kurds around and "no" is winning. Some people, kurdish as well as turkish, use a lot of bad adjectives besides Erdogan's name. The gap between people voting yes or no is impressive, probably impossible to recover.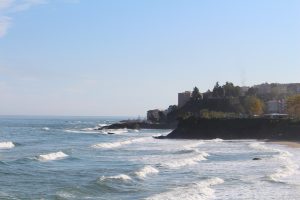 In Tirebolu the rain doesn't want to stop. But luck comes back and we are hosted by buildings' workers in their camp. They offer us beds, tea and food with broad smiles and laughing about how crazy we are. In the morning after our goodbyes to the team and their cat we move toward Samsun. We find there an host on Couchsurfing, a young director of a metalurgical company and we taste together some Börek, Pide and Ayran with a view on the black sea.
We are now on the main road to Istanbul. Sun is finally back after one week of bad and cold weather, and meeting with nice people is back too. In Kavak we eat some börek again, invited by our driver. He is the manager of the local water company and we first think he is the mayor when we see his office with leather seats, Atatürk portrait and huge Turkish flag.
We meet his colleagues and friends, some international sellers of bull semen, and we absorb two teas, one coffee and dozens of selfies in half an hour.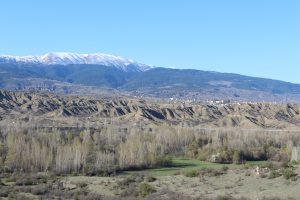 Later a truck driver offers us a really good meal, as if prepared by a Chef along the road with his gas cookers. We are happy to eat a proper meal…
We continue and sleep in a small village in Ilgaz area, in a small house along the mosque. There the buildings are made of stone and the scenery is great. The imam's family takes care of us, it's a perfect day of travelling. The welcoming Turkey is back too.
After a yummy breakfast with honey, bread and homemade cheese we are on our way to Bolu.
Bolu is our last night in the nature. We climb a hill and we camp with the warmness of a fire, cooking some sausages on the embers. We hear "Ezan" (prayer) all around us sending us to bed and wakes us up in the morning for our last hitchhiking day.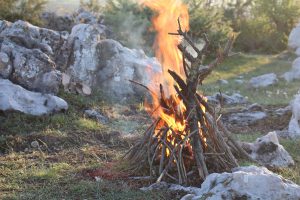 We arrive quickly to Istanbul and we sit a few hours on the Bosphorus side, between Beşiktaş and Bebek. The city is warmed up by the sun and it's a nice moment to finish this trip.
We spend the next days with two friends, Serap and Büşra, and we will take shortly our plane back home.
Thanks to anyone following us here! We will write a last article soon to explain what we will do with all the stories, photos and videos… It may take time but you will have all of it.
See you soon!