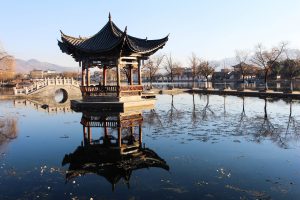 Just after the border, a 20yo couple stops and invites us for dinner. We spend our first days in China with them, in a community organized around a basketball field, and surrounded by banana plantations. Each family living there wants to invite us for a meal and our appetite has to follow the rhythm, moreover they seem to eat 4 times a day in the area.
The new year is coming: everybody is on holiday for at least 3 weeks and the pig has been killed to feed all these people. We enjoy the food and the smiles and we learn how to play with Google translate to talk to our hosts.
It's also from this moment it is confirmed how important is the cigarette in China. They offer some to us or their friends every 5′, some shops give it for free to attract customers and for instance at the weddings some cups full of it are displayed at the entrance.
Our trip to Kunming starts at the toll where a policeman stops cars for us. He finds one after a long discussion and we don't know if our driver was somehow forced to take us… Whatever, the guy was nice and we could exchange a little bit on the road.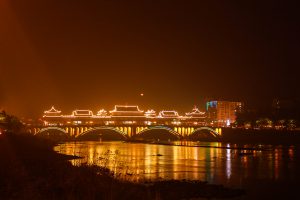 The first Chinese landscapes are huge, the first villages are cities, where tall buildings are aligned along the roads. The infrastructures are impressive and our map is not up to date anymore, the concrete is still warm and the roads are bright.
After Kunming, a city where everything  seems so recent, we go to Dali. It is one of the most touristic city of China and we discover there the importance of interior tourism in China. A family from Canton takes us there, they did more than 1500 kms to reach Dali. From Dali we are on average at 2200m of altitude  and the road often reaches 3000m. The faces and the clothes of the local ethnics change a lot, languages, food and landscapes too, and we realize how diversified China is. It is more than a country.
We sleep for the first time under 0 degree in the tent, and we almost reach the limit of our equipment. The coldness being more important in the morning, our fingers are frozen when we fold the tent. We try from then on not to sleep outside, and we directly ask people on the street if they can host us. The day after we sleep in a building belonging to a Christian church, then in a shop etc.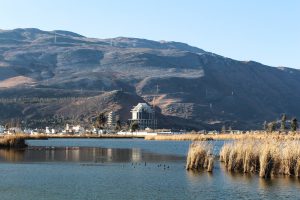 One of the village where we sleep is specialised in silver crafting for several centuries. And even if few houses or temples seem old, this quite touristic place is keeping some charm and its village soul. It was the same in Dali, and it seems that tourism doesn't change that much the cities and the people.
We spend a night in the suburb of a mountain city, Shuanghe, with a family belonging to the local ethnicity. At the light of a fire we eat potatoes cooked in the ash and we chat with the brothers, sisters and cousins  some of them talking a quite good English. We are till now really impressed by the welcoming spirit of Chinese people and how they are proactive.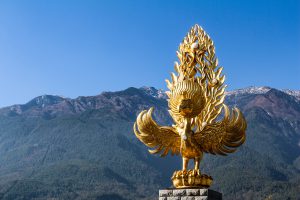 In Chengdu we spend the new year with a family, in Xin Du district. We are warmly welcomed, again, and we enjoy the sound of firecrackers and the fireworks popping from everywhere around us. These are more or less forbidden in Chengdu center but not here. We visit a big Chinese temple full of people, and we throw the incense in the fire before sending some balloons in the night. In the morning the firecrackers sing again.
In Sichuan province  the food is spicy but not as much as in Indonesia, or differently we cannot say. Whatever we try new tastes, unknown vegetables and meat, some buckwheat tea, green tea, strange sweet and salty crackers etc.
We are now in Mianyang with so much to tell, but we have no time to describe all that we discover here. Days are short while travelling…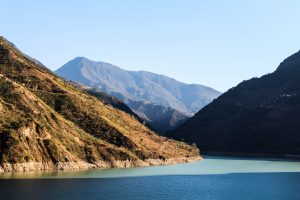 We will soon buy gloves and hats to fight the minus temperatures of the North. Pollution is visible too but our nose gets cold and we cannot feel it. People warn us regularly about the sand storms between Urumqi and Beijing, we'll see. To go there when everything is fine wouldn't it be cheating ? Till some limits 😉
Happy Chinese new year! May the roosters wake everybody up!
Leave a Comment