A few steps in Europe
A three months adventure Paris – Caucasia – Paris (summer 2015)
Presentation
I first wanted to follow the Silk road from Venice to Central Asia… An accident on the road and I missed the plane. All my plans were over, and the real adventure starts! Three months, from May to July 2015, to cover Europe. I am alone and the first weeks are quite tough: hitchhiking is quite new for me and talking to people in the streets is not easy… Finally I got used to it. It's like a game.
And I have to talk in english, sometimes a bit of german, and the words get confused. I improve myself, no matter the accent and the grammar mistakes.
I meet people I wouldn't have met in France, I move out of my social bubble. I debate with so many people, with all kind of professions and ages. Religions change too, I open my eyes to different communities and cultures, enough to question a lot of prejudices.
But it's time to go back home. Running all day not knowing where to sleep makes me tired, that's the price for an unforgettable experience. As far as I'm concerned, travelling alone is the best way to meet people and to be forced out of your comfort zone. Just try it!
Travel letters
Figures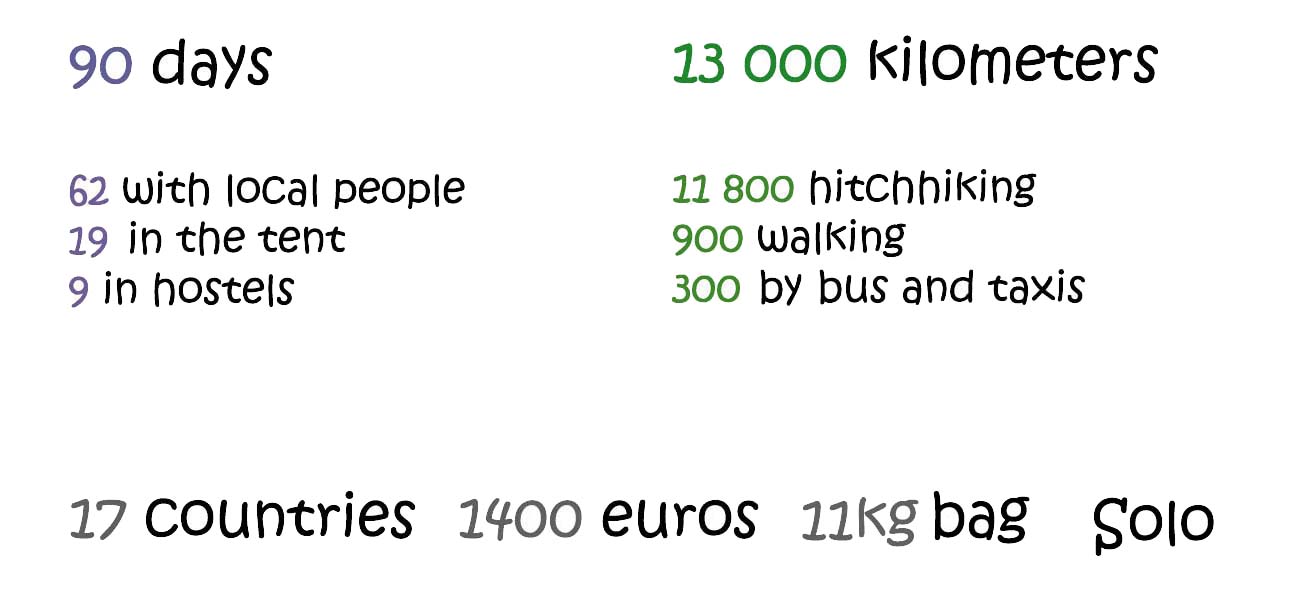 Across Asia
Indonesian monsoon, Chinese winter and Persian spring… (November 2016 to April 2017)
Presentation
My previous trip was not enough: why staying in Europe? Borders with Asia are blurry, and my glance at Middle East had arouse my curiosity. I move on to my journey with a friend for six months, from November 2016 until May 2017. It's a challenge to travel together for such a long time. Fortunately our personalities are similar. I'm used to deal with everything due to my solo trip, so I have to learn how to share responsabilities, how to trust. Not always easy. Finally it's a good opportunity to learn about his flaws. Travelling alone or with friends is definitely complementary.
We start from Jakarta during monsoon season and we cross China and Kazakhstan during the winter. Our schedule could have been better starting in January, but we prefer to meet the local people in real and various conditions. Weather is a part of it.
We walk a lot, hitchhiking is not well known there and we always have to explain it. Our situation is paradoxical: even as students our financial situation is better than many. Mutual assistance and hospitality are nice altruist ideas, but still have a cost. Do we abuse people with this way of travelling ? What do these meals or those few liters of gas represent ? Overall I believe we did fine by our own standards… but we may have misbehaved in theirs, without knowing.
The diversity of Asia is unique and the culture shock is big. It's impossible to judge anyone as european mindset is off the subject. But you can't help doing it. There are some boring times due to visas procedures or rainy weather, some races to cross borders on time… On such a long period the mood can be down, but a nice host, carefree children or an amazing landscape and you're on your feet again.
When the trip ends, the world seems a bit less mysterious and your own life choices more complex. Now, what to do with our priviledges?
Travel letters
Figures